Introduction
Armadillo can design and manufacture PTFE Launch Bearings, PTFE slide structural bearings, PTFE skid pads, PTFE Structural Bearings, Dimpled PTFE and Glass Filled PTFE or Glass filled PTFE and dimpled PTFE, PTFE skid pads, Pipe slides and PTFE pipe saddles, Heavy Duty skid pads and heavy load PTFE slide bearings.
There are many applications in industry where relative movement between two surfaces must be accommodated.
These applications call for high load capacity at low speed, meaning self lubricating PTFE is an ideal material to be employed. Armadillo NV have a vast experience in designing and supplying custom made expansion bearings to address this issue.
Product Advantages
Simple construction gives cost effective solutions to the problem.
Even for small production runs bearings can be very cost effective.
PTFE is self lubricating, and can even absorb some dirt particles into the bearing surface offering unrivalled lifetime performance.
Friction values are 6% down to less than 2% depending on working stress. (The higher the load the lower the value)
Can be designed to accommodate high temperature applications.
Indefinite life because weather elements, and many chemicals have little effect on PTFE. Moisture absorption is low.PTFE is chemically inert.
Maintenance free, PTFE can not cold weld so needs no lubrication.
PTFE Bearings are a lower profile than many alternative assemblies, saving space.
galvanic corrosion is eliminated due to the high electrical and thermal insulation properties.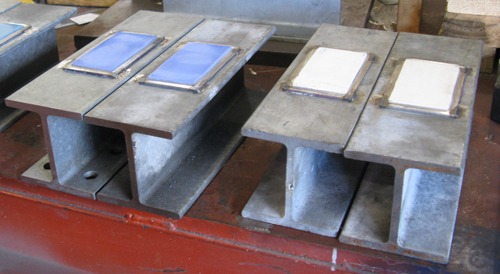 Product Description
Armadillo Expansion Bearings and Slide Bearings consist of a 3 mm thick virgin PTFE bearing face element bonded or, in some applications recessed into a carbon steel base plate. Standard thickness would be 10mm although thicker plates can be supplied. This is refereed to as the Base Element.
Sliding above this assembly is a 1 mm thick polished Stainless Steel slide plate which is either epoxy bonded or tack welded to a 6 mm thick carbon steel top plate, (other thickness' available on request). The SS plate is of a sufficient area to always completely cover the PTFE bearing face. This effectively seals the slide surface from dirt ensuring an exceptional life expectancy of the unit.
In critical applications there may be thermal considerations or excessive vibration, shock or rotation to be accommodated. In this event, Armadillo can offer a range of load bearing products to be incorporated into the design.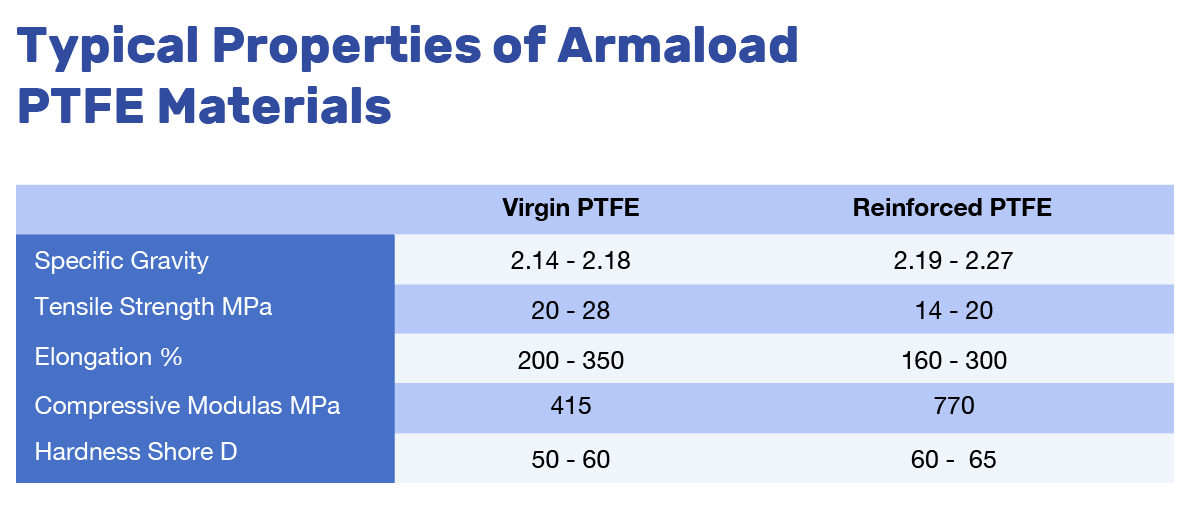 Coefficient of Friction
Typical friction values have been measured between 10% down to as low as 2%. A key factor in selecting PTFE as the sliding medium is the exceptionally small difference between static and dynamic friction, this gives the added benefit of very low, "stick-slip" differences, ensuring a smooth transition in operation.
Bonding of the Bearings
All bonding of the PTFE is carried out under strictly controlled factory conditions, it is therefore not recommended to attempt to Bond the PTFE on site. Attaching the upper and lower elements to the structure can be achieved by either site welding or mechanical fixings. For further details, contact Armadillo Engineering Department.
PTFE Thickness
Standard supply is 3 mm thick Virgin PTFE, this has been found to give an adequate bearing life. If the PTFE is to be recessed into the base steel, thickness may be increased to 5 mm. For exceptionally high bearing loads, glass filled PTFE would be supplied.
Bearing Dimensions
The Base Unit dimension are dependant on, load the unit will be exposed to, physical size restraints of the installation location and in some cases if there is any rotation to be accommodated.
It is typical, although not compulsory that the sliding takes place across the short access of the bearing. This is also the case in accommodating any rotational issues.
Bearing Temperature
Temperature at the bearing surface should be limited to less than 120°C, in the event of the application requiring a higher operating temperature contact Armadillo Engineering department.
Design Steps
Calculate load to be supported. This will give the total bearing area required.
Decide on number of supporting locations for the structure.
Consider any thermal, rotational or shock loading issues.
Consider how the bearing assemblies will be installed, and fastened into position.